Green Zirconia Technology vs. Outdated Toxic Epoxy
At Zirconia, we are dedicated to providing cutting-edge coating solutions for critical concrete infrastructure problems facing the built environment. Coating concrete floors in industrial markets is one of these problems. Without proper coatings, concrete chemically erodes away, leaving a slippery, infected, and dangerous surface.
Zirconia's proprietary nano-ceramic concrete floor coatings provide a durable non-slip, chemical resistant wear surface, preventing concrete corrosion damage much better than outdated, toxic epoxy products.
In today's investor article, I am going to cover the problems with Epoxy and how Zirconia's revolutionary technologies create a more durable, long-lasting solution.
The Epoxy Problem
Concrete requires coatings to prevent decay, extend lifespan and create a cleanable surface.  Current coating technologies are toxic and made to fail, requiring regular expensive repairs and replacement. When these concrete coatings fail, concrete becomes pitted, stained, and impossible to clean, creating problems with slip/fall safety, hygiene, and microbial infection, and creating other liabilities.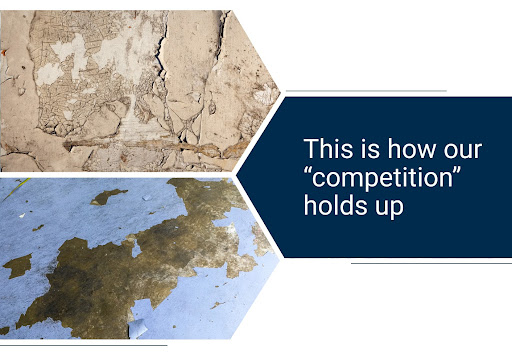 The main reason for this is that concrete is extremely porous. It absorbs water, industrial chemicals, dirt, and simply dissolves. It also provides a home (habitat) for bacteria and other microorganisms that thrive in porous environments, creating biological hazards.
Current technologies that are supposed to help, such as epoxy, can't chemically bond to concrete, and therefore, can't provide durable protection. Such coatings can only grab onto the surface mechanically or stick temporarily, then this weak "adhesion bonding" breaks down and the coating peels away, leaving the concrete vulnerable to degradation. One of the key causes of failure is the moisture that is present in the concrete trying to come out. Once a scratch in the coating occurs, more moisture gets in and the coating starts peeling off.
Zirconia's Green Tech Ceramic Solution
Zirconia's CeramycGuard™ technology is a more sustainable coating alternative for concrete surfaces. This technology chemically bonds with the concrete forming an ultra-durable protective layer, creating a base layer for our other concrete coating systems.
This nano-ceramic solution cures at room temperature (eliminating the need for high temperature curing). Also, CeramycGuard™ is non-toxic, making it safe for applications in occupied facilities.
Over the CeramycGuard™ ceramic base layer we use a nano-ceramic cross-linking layer, followed by our  ComposiCoatTM XD high solids, low VOC urethane to form our ComposiCoatTM system.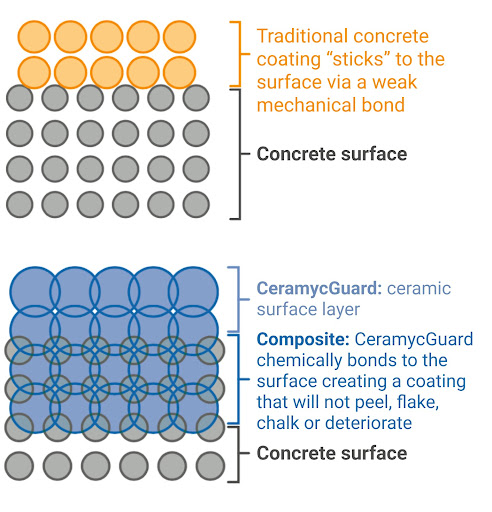 This ultra-durable 3-layer system is atomically bonded through all layers with the concrete, creating the world's first chemically bonded, composite floor coating system. This coating system sets the highest standard for non-slip, chemical and wear resistance and is also Biologically ImperviousTM to microbial life, preventing biological hazards from forming.
This technology makes industrial settings cleaner, safer and less toxic, and also lowers the cost of maintenance dramatically. This technology gives industrial facility managers around the world the durable epoxy alternative they have been waiting for.
Invest in Zirconia on StartEngine
Our executive team hopes that you will consider Zirconia as your next investment opportunity.
We are currently raising capital via StartEngine's equity crowdfunding platform, and we need the support of our community.
To invest, simply head over to our raise page and become an early shareholder for as little as $200 today. We are looking forward to a strong partnership with you.
If you still have any questions or concerns, please do not hesitate to write to us. We will be happy to address them for you.